STEINS;GATE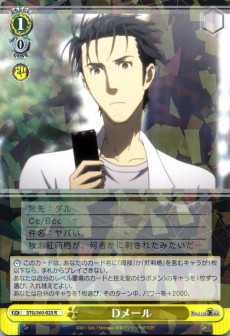 Singles Market
Dメール
STG/S60-025 R
:

Event

:

Yellow

:

1

:

0

:

0

:

N/A
【COUNTER】 If you have 1 or less Character with 「岡部」 or 「紅莉栖」 in its name, you cannot play this card from Hand.
You may choose 1 card from your Level Slot and 1 《ラボメン》 Character from your Waiting Room, exchange them.
Choose 1 of your Character, during this turn, it gets +2000 Power.
【カウンター】 このカードは、あなたのカード名に「岡部」か「紅莉栖」を含むキャラが1枚以下なら、手札からプレイできない。
あなたは自分のレベル置場のカードと控え室の《ラボメン》のキャラを1枚ずつ選び、入れ替えてよい。
あなたは自分のキャラを1枚選び、そのターン中、パワーを+2000。
宛先:ダル
Cc/Bcc
件名:ヤバい
牧瀬紅莉栖が、何者かに刺されたみたいだ…